Blog
Shatter the Glass Ceiling by Coaching Women Who Lead
March 06, 2018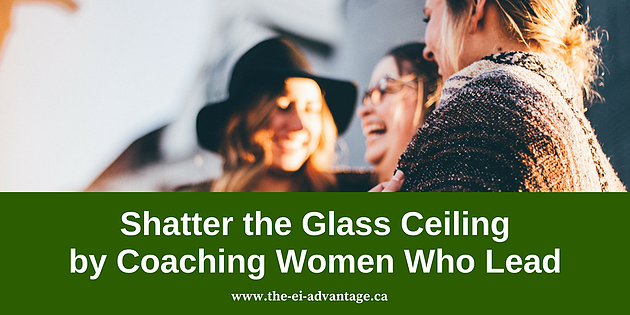 In the modern workplace, there's been an important conversational shift taking place: providing the path for women to find success as best-in-class leaders. Traditionally, when people think of executive-level leaders and organizational CEOs, the image of a powerful man in a suit comes to mind. However, this picture is changing, as gender-related topical issues in the workplace are coming to the forefront.

This dialogue on how businesses can enable, support, and develop more female leaders is transforming mindsets, resulting in the issue of addressing gender-equality becoming a top priority for organizations around the country. One of the most essential tools in creating equal opportunities for women who lead is supportive coaching that develops executive presence and drives them towards their professional goals.
Challenges Faced by Women in the Workplace
Although gender equality is becoming a regular discussion within best-in-class organizations, there are still many hurdles faced by professional women daily. According to Women in the Workplace, almost 50% of men believe that women are currently well represented in companies. In reality, however, only 10% of senior leaders are women.
This misconception hinders women and slows the development of policies that can help drive women ahead in the modern workplace. Additionally, challenges like gender bias and office politics often hold women back from moving into high-level leadership roles. These challenges can prompt internal struggles like a hesitancy to develop professional relationships, and lack of confidence when presenting ideas and communicating with authoritative figures in the business.
The good news? Stats Canada has found that not only has the participation of women in the labour market increased, but so have earnings. According to Pew Social Trends, the percentage of women on boards of Fortune 500 companies has more than doubled since 1995, with 20.2% of Fortune 500 board members being women.
Coaching Women for Success as Leaders
Professional coaching is an asset for businesses who want to enable women leaders to thrive in their workplaces, and can help current leaders create a diverse work culture that drives innovative thinking.
The most effective coaching methods will help career-driven women to:
Manage their stress levels
Strengthen their executive presence
Strategically think about the future of their careers
Develop professional relationship building skills
Create a future-forward plan to increase influence
Increase EI skills and self-awareness
Coaching women for leadership success requires specialized resources and pathways. The ERC finds that the most effective topics to encompass leadership training for women include:
Leadership development
Personal branding and empowering
Time, stress, and priority management practices
Practicing assertiveness
Coaching future leaders is critical for a successful workplace, but is even more important in organizations who want to align their C-Suite executives with the future-forward, equal-opportunity businesses that are innovating industries.

It's imperative that your organization focus on coaching women who lead to create equal opportunity and drive your business forward. Consider investing in executive coaching for women leaders to help them raise the bar and to make strategic professional shifts that can inspire others to reach their professional goals.
If you're seeking high-quality executive coaching to ensure you thrive as a powerful gender-equal business, EI Advantage is always ready to help. Get in touch today on Facebook, LinkedIn, or Twitter to find out more about our executive coaching opportunities, or how you can book the next team coaching session for your organization.