Blog
How to Include Emotional Intelligence in Your Onboarding
April 09, 2019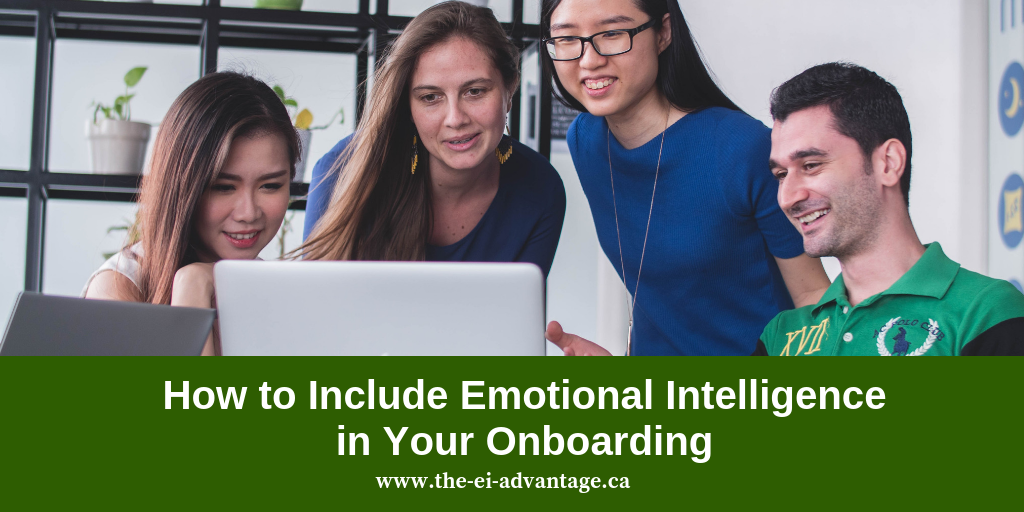 As business leaders continue to rethink and update hiring and retention strategies for the modern workplace, one resounding aspect keeps resurfacing again and again: the need for positive emotional connections in the workplace.
This shift we see in talent acquisition and HR strategies – namely, away from methodical to emotional techniques – becomes apparent when we consider the language we use to describe some of the hottest concepts and ideas in this industry: candidate experience, employee engagement, and, of course, emotional intelligence.
Emotion is now one of the driving forces behind today's hiring and retention strategies, and plays a role in every aspect of a new hire's experience within an organization. Businesses need to make sure that an emotional connection is established on a new hire's first day and continues throughout their tenure with the company.
The Importance of Emotional Relationships at Work
Increasing numbers of studies have found that the emotional connection employees have – or don't have – with their place of work can make a big difference in whether or not they feel loyalty towards the company, and whether or not they choose to stay, or leave.
In one study, 65% of respondents reported that they were more likely to look for a new job due to poor internal communication and a lack of emotional connection.
Conversely, if you can cultivate a workplace that builds strong, positive emotional connections your employees are 50% more likely to stay because of those relationships, even if they feel unsatisfied with their job.
As we can see, not only does fostering an emotionally supportive and positive workplace help retain staff, but it also reduces the costs associated with high turnover, such as the time lost interviewing new candidates and on-boarding new team members.
But how can you make emotional intelligence a key component of your onboarding process?
1. Assess the Potential Emotional Connection
Assessing for cultural fit is an age-old hiring metric, but determining an emotional connection is more akin to evaluating the emotional potential that a potential employee will have with the rest of the team.
For example, asking candidates what motivates them day-to-day, what kind of satisfaction they hope to gain from their employment with the company, and the kinds of workplace teams and projects they prefer to work on can provide valuable insight how the person you're considering adding to your team thinks and works.
Some example questions to ask include:
"Tell me about a time you tried something and failed."
"Tell me about a time you received negative feedback from a superior. How did it make you feel?"
"Can you tell me about a time when you needed to ask for help on a project?
Even better: if you have your Change Style Indicator® and Change Navigator® Certifications, you can help the candidate discover their preferred change style, how they handle changes within the workplace, and share strategies to be successful.
2. Show Some Appreciation
53% of employees report that they would stay at their current place of work if their boss showed them more appreciation, and 81% of employees report feeling motivated to work harder after experiencing positive feedback and appreciation from their bosses.
Without regular feedback, employees have no idea if they're doing their jobs well, or how their work is affecting the company as a whole. By taking the time to let them know that their efforts and input are valued from the first day on the job you can motivate them to work harder and stick with the company longer.
But how can we show appreciation when a new hire hasn't done anything specific to their role that we can compliment? We can mention something specific in how they handled the transition, how well they fit in with the rest of the team, or even something as simple as saying "your friendly attitude is really brightening up the office."
What's key here is to recognize and reward behaviours that are both behaviourally-based, as well as skill-based. After all, engaged employees can add up to 600% to your ROI.
3. Position Yourself as a Trusted Resource
Often, when we talk about creating emotionally supportive workplaces we tend to focus on things like building diverse teams, hiring emotionally intelligent candidates who work well together, and giving positive feedback.
Sometimes, however, it comes down to being a solid foundation. Someone a new hire can rely on and confide in if they begin to feel anxious or out of their depth.
Positioning yourself as a resource is especially important in the first few months' of an employee's onboarding. After all, 22% of employee turnover occurs within the first 45 days after the new hire takes the job.
By making sure the onboarding process is organized, well-timed, and impactful, we can help stop employees from feeling nervous, anxious, or worse: leaving altogether! In addition to acting as their chaperone as they settle into their new role, make a point to be available when they need advice or guidance, and work with the new employee to develop strategies that help them be successful within their role.
Do you want to learn to assess candidates for their emotional intelligence and make smarter hiring decisions? Register for one of our upcoming certification courses, or contact us to register for an assessment and 1:1 debrief with a certified executive coach.
Want these resources delivered right to your inbox? Subscribe to our newsletter!