Blog
Why Q1 2020 is the Perfect Time to Start Hiring for Emotional intelligence
December 13, 2019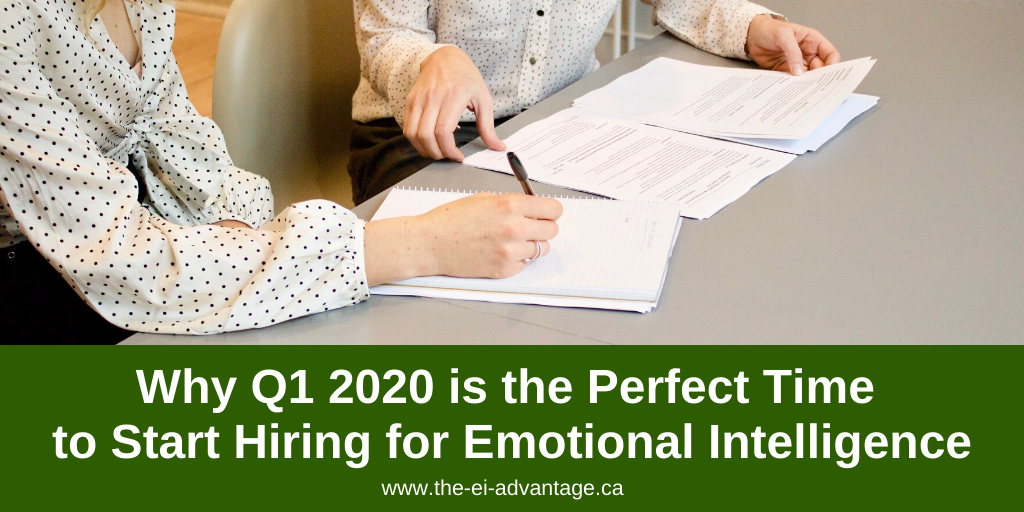 What's your plan for growth in 2020?
If you're planning to expand your workplace team and hire capable and adaptable employees, then 2020 is the year to start hiring with emotional intelligence in mind.
If you've never included emotional intelligence in how you assess a candidate's potential, then don't miss why Q1 2020 is the time to start hiring with these essentials skills in mind.
Emotional Intelligence and the Fourth Industrial Revolution
Until recently, emotions were largely taboo at work, and were seen as signs that a leader had weak decision-making skills. After all, how could someone "emotional" make rational, well-reasoned decisions?
Of course, we now know that these assumptions were untrue. In fact, in recent years emotional intelligence has become one of the most sought-after strengths among business leaders and managers.
Why has this happened? In large part we can cite the increasing diversification of the workplace, and the gap between the older generations who run the businesses, and the younger generations who are pushing for more progressive, inclusive, and supportive workplace policies.
In fact, the Deloitte Global Millennial Survey 2019 found that many respondents stated that they would cut immediate ties with a company that didn't share their values.
This change also comes as a result of The World Economic Forum stating that it considers a person's EQ (emotional quotient, or the level of their emotional intelligence) critical for the Fourth Industrial Revolution.
This new era is defined by the integration of technology into our lives, such as the Internet of Things (IoT), the Internet of Systems (IoS), artificial intelligence, and much more.
As this revolution changes how we interact with one another using technology, our EQ becomes that much more important for successful communication.
Hiring for Skills You Actually Need
The World Economic Forum predicts that in the next five years, more than a third (35%) of skills considered important in the workplace today will have changed.
Among the "must have" skills workers will need to stay competitive are critical thinking, resilience, and change management skills – all related to emotional intelligence.
As jobs that were once seen as purely technical become more interpersonal, and as low-skills jobs get phased out due to automation, an employee's ability to collaborate and solve problems with others will become essential.
How to Hire for Emotional Intelligence in 2020
Keep these qualities in mind during your interview with a potential candidate in order to assess their EQ:
Self awareness: Is the person self-aware? It is likely they do if they are open about their strengths and weaknesses, and can show that they understand how their own actions affect others.

Motivation: emotionally intelligent people are self-motivated, and typically exhibit resilient and optimistic attitudes. They are able to set and achieve their goals continually.

Self-regulation: an emotionally intelligent person can discuss their emotions while still exercising restraint and making good judgments in their choice of words and behaviours.

Empathy: someone who can practice empathy has compassion and an understanding of others that allows them to connect on an emotional level, and to respond in a genuine way.

People skills: emotionally intelligent people can get along with others and build trusting relationships easily. They avoid drama, power struggles, and conflicts whenever possible.
Invest in Others by Investing in Yourself
While the pace of change continues to accelerate, 2020 is the time to pause to identify and anticipate the skills needed for professional success. Organizations whose employees embrace change will see success during the Fourth Industrial Revolution – will yours?

Learn how you react to change, and how to help manage your employees' reaction to it, by registering for our on demand/online Change Assessment certification.
Are you Toronto-based? Then don't miss the chance to join us for an in-person EQ-i2.0 & EQ360 emotional intelligence certification event taking place March 4 – 5, 2020. International Coach Federation members save $100, and you can save an additional $100 if you register now! Don't wait.