Blog
The Benefits of EQ for Teenagers
August 25, 2017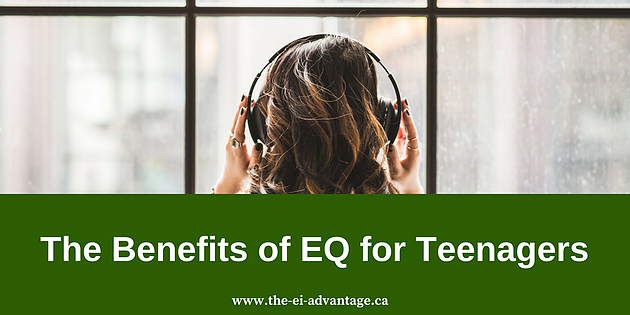 We often discuss the importance of emotional intelligence (EI) as it relates to the modern workplace; how businesses are changing and shifting priority away from individuals who are driven but can't work well with others, to adaptive, responsive, and inclusive workplaces that foster greater levels of success.
One of the best times to begin teaching emotional intelligence and preparing individuals for the years ahead – not just in the workplace, but in life – is during the teenage years.
Teenagers today will eventually make up the workforce of tomorrow, and in order to prepare them for workplaces, which will expect them to be reflective, adaptive, and empathetic, teachers, counselors, and instructors need to develop their own emotional intelligence.
Why Does EQ Matter to Teens?
Many of today's teenagers deal with high stress and pressure every day, and teens who lack the basic skills to deal with stress in healthy ways have a higher likelihood of acting out and disengaging in the classroom. Teenagers with high emotional intelligence have brighter outlooks and attitudes, and experience lower levels of anxiety, mood swings, and depression.
Additionally, instructors with well-developed levels of emotional intelligence can help identify issues that a teenager might be experiencing, such a troubles at home, and assist them with finding solutions instead of labeling them as "lazy" and allowing them to fall behind.
When teachers and instructors can empathize with teens they create a safe space for young people whose emotions and experiences have value, and where they can begin to develop their own EI as a result.
Some questions you can ask your teenage students to get them thinking about their EI are:
You seemed distracted in class today. What might be bothering you?
What's the most interesting thing you learned today?
What do you think and feel about working in groups?
What are your strategies for successful studying?
How are handling the stress of exams and assignments?
How is the group handling conflict?
Arming Teens With the Tools for Success
The single biggest benefit to teaching teens to develop their Emotional Intelligence is showing them how to resolve conflicts in healthy ways. Not only will these skills be an asset in future interpersonal relationships, but they can also dramatically impact their chances for success and happiness in the workplace.
Teenagers who can self-assess and identify when they are feeling overwhelmed, frustrated, or upset, and who can articulate those feelings in healthy ways have a better chance of communicating effectively in a professional environment. Additionally, teenagers who have a high EQ are also more in touch with their own motivations, wants, and needs, which can help them choose the careers and places of work that will provide them with a deeper sense of satisfaction.
When teachers ask questions that help teens think critically about their emotions and develop their EI they provide students with the right mental building blocks to be able to manage their emotions, relate to others, and choose careers that will make them more fulfilled and happier.
For more information about how Emotional Intelligence coaching can help you teach and support your students more effectively, contact us today.