Blog
Register for Our Emotional Intelligence EQ-i2.0 & EQ360 Online Certification
April 07, 2017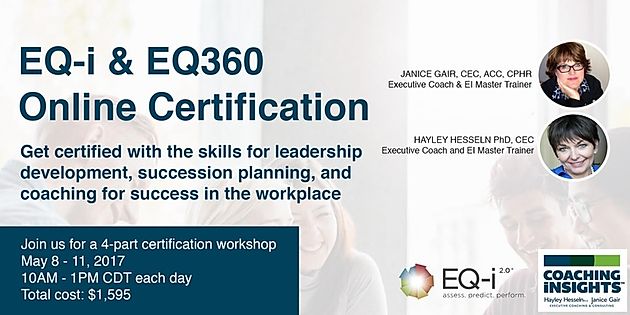 The path to "thinking differently" and "leading differently" starts with self-awareness. This 4-part certification course, presented by Executive Coaches and Emotional Intelligence (EI) Master Trainers Janice Gair and Hayley Hesseln, will teach you the skills to earn your EQ-i2.0 & EQ360 Certification.

Applying the concepts you'll learn during the certification program will enable you to strengthen your leadership and succession planning. Using EI as the basis for your coaching will help you bring out the best in your employees as they become more aware of their own emotions.
The certification includes:
The EQi-2.0 training kit (with access to online modules)
The EQ Edge book
Individual assessment and debrief
Free tokens (approximate value $280) to use after you get certified
Free account with MHS to administer EQi-2.0 and EQ360 assessments
This program will take place in 3-hour blocks (10-1 CDT), over a period of 4 days.
The program is approved by the International Coach Federation for the following CCE credits: Core Competencies 9.25 & Resource Development 6.75.
EQi-2.0 & EQ360 Online Certification – Certification Courses licensed by Multi-Health Systems Inc.
FAQs
When Does the Training Take Place?
This online, instructor-led certification training will take place on May 8 – 11, from 10AM – 1PM CDT each day
Who are the facilitators?

Hayley Hesseln, PhD, CEC
Dr. Hayley Hesseln has dedicated her 20-year career as a university professor to teaching and learning. She is an economist and professor at the University of Saskatchewan. Collaborating with Janice Gair on coaching education, they transition people and organizations to excel, take decisions and hold themselves capable. Launching individuals and organizations to maximize their potential is what they do. Hayley is an alumnus of the Royal Roads University Executive Coaching program in Victoria, BC, Canada, Master EQ-i Trainer, and Member of the International Coaching Federation.
Janice Gair, CEC, ACC, CPHR
Janice is an executive with over two decades of experience working in corporate strategy, operations and human resources at an international level. She is an executive coach working within business and academia to provide individual and team coaching services, emotional intelligence and coach skills training. She helps her clients focus forward. She is a Certified Executive Coach (CEC), Royal Roads University, who has achieved the Associate Certified Coach (ACC) designation through the International Coaching Federation. She is a Master EQ-i Trainer, holds a B.A. (Administration), University of Winnipeg and the Certified Professional of Human Resources (CPHR) designation.
How can I contact the organizer with any questions?
Contact Janice Gair at info@janicegaircoach.com or (204) 891-7884.
What's the refund policy?
21 days or more before start date – 100%
Less than 21 days – No refund or exchanges.