Products
EQ Connections™ – Training Materials
Purchase EQ Connections™, your new favorite emotional intelligence training tool!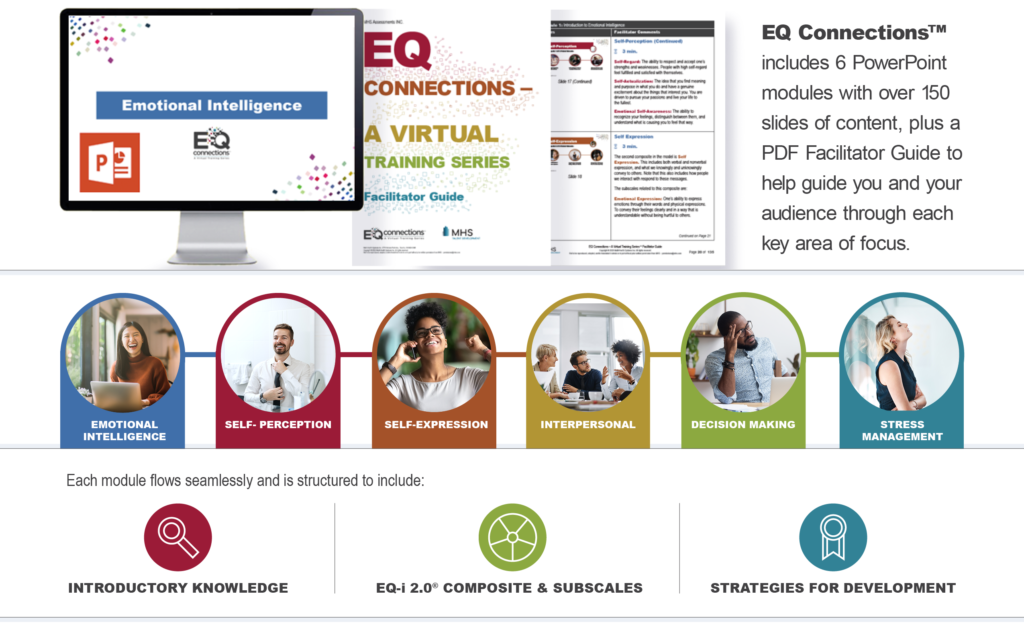 EQ Connections™ is an interactive training series that provides foundational learning with an engaging format and professional look and feel. It can be a companion to the trusted EQ-i 2.0® assessment. This program introduces practical exercises your clients can deploy to not only enhance their EI skills but also bolster their understanding of why and how emotional intelligence impacts their performance. It includes a 100+ facilitator guide including research references, and 150+ slide deck series focused on the five composites of emotional intelligence: self perception, self expression, interpersonal, decision-making and stress management.
Buy now
Meet the Authors
Hayley Hesseln, PhD and Janice Gair, co-founders of EI Advantage are its authors. Their combined experience in business, research, teaching, and higher education has given them insight into the need for advanced training and executive coaching around essential emotional skills required for the Fourth Industrial revolution as recognized by the World Economic Forum. They have published articles in the fields of business, coaching, training, and teaching, and Hesseln was honoured to receive the Master Teacher Award at the University of Saskatchewan in 2017 and the Medal of Bravery from the Governor General of Canada. Gair lives in Winnipeg, MB with her husband two children and dog, while Hesseln lives in Saskatoon, SK with her three dogs. They are delighted to have partnered with MHS on the distribution of EQ Connections™
EQ Connections Brochure
Interested in EQ-i2.0 Certification?