Blog
Lessons in Leadership from 4 Powerhouse Women in Business
March 12, 2019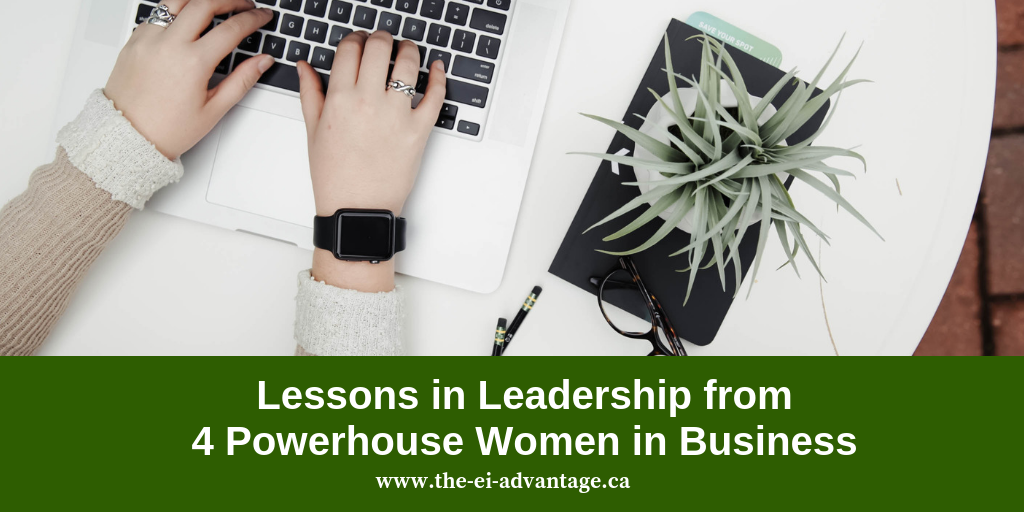 It's International Women's Month, and we'd like to take a moment to celebrate the many milestones women have reached! Below, you will find some of our favourite leadership lessons from some of the women leading the way across the business landscape.
Not only do these women lead with grit and integrity, but they strive to be authentic about the challenges of being a female leader. They demonstrate the emotional intelligence and fortitude needed to inspire and lead, and all have stories and perspectives worth sharing.
Which of the following leadership lessons resonates the most with you?
1. Don't Limit Yourself
Sheryl Sandberg, COO of Facebook
Whether you're just starting your career or are a seasoned executive, you need to know what sets you apart from the competition. By taking the time to dig deep and discover your unique selling proposition you can capitalize on how your differences give you a competitive advantage over others vying for the same role.
In 2015, Sheryl Sandberg responded to a Quora question where someone asked what advice she would have given herself when she was "starting out", and here's what she said:
"Believe you can do anything. This is important for everyone and especially for women. Don't let anyone tell you [that you] can't have both a meaningful professional career and a fulfilling personal life. When you hear someone say you can't do something, know that you can and start figuring out how. Ask yourself, 'What would I do if I weren't afraid?'" Sandberg wrote.
2. Find a Mentor
Melinda Gates, co-founder of the Bill & Melinda Gates Foundation
Finding the right mentor can have you identify strengths, weaknesses, and opportunities that you might not have known existed. As your career changes, and as you grow and change personally and professionally, it's important to have a source of objective opinion and influence to help you develop into your best self.
On this subject, Melinda Gates has been quoted as saying: "if you are successful, it is because somewhere, sometime, someone gave you a life or an idea that started you in the right direction. Remember also that you are indebted to life until you help some less fortunate person, just as you were helped.
Another option is to work with a professional coach to develop areas that focus on you emotional intelligence. If this interests you, get in touch and let us know how we can help.
3. Never Stop Learning
Indra Nooyi – Chairman & CEO, PepsiCo.
We live in an ultra-competitive business landscape, which means that staying on track requires constant focus and relentless motivation.
The desire to continually learn and "upskill" to develop both "hard" and "soft" core competencies not only leads to more opportunities to learn, but often also to make money and climb the corporate ladder.
This is why Indra Nooyi believes that the most successful people in her company are dedicated "lifelong learners". She states:
"Our CEOs and leaders have to be lifelong students—not just students in the sense of attending courses or reading a book or two. You've got to learn how to read widely, walk the market, look at trends in the marketplace, make connections that don't seem obvious."
4. Remember: It's OK To Fail
Arianna Huffington, editor-in-chief of the Huffington Post
There are times when situations in our personal and professional lives result in feelings of failure and regret. In these moments, it's tempting to focus only on the negative while ignoring or dismissing positive news or developments in other areas.
"We need to accept that we won't always make the right decisions, that we'll screw up royally sometimes," says Huffington, "understanding that failure is not the opposite of success, it's part of success."
Accepting your failure doesn't mean you're proud of it, but rather shows that you hit a roadblock and are figuring out a way around it. By letting yourself off the hook you open up more opportunities for the self-reflection and growth that will be critical for future success.
Which female leaders are inspiriting you this International Women's Month? Tell us on Facebook, LinkedIn, or Twitter.  You can also subscribe to our newsletter and register for one of our upcoming certification courses if you're interested in developing your emotional intelligence!