Blog
Leadership Development: The Unexpected Key to Succession Planning Success
April 12, 2018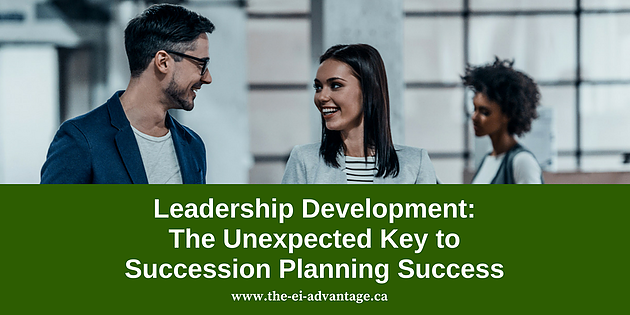 As your business grows and your company culture inevitably shifts with the times, it's vital that current leadership consider the type of leadership necessary to keep the business thriving in the future.
According to the HR Council, succession planning is the acknowledgement that current staff "will not be with an organization indefinitely" through the cultivation of a strategy that addresses inevitable changes in leadership over time.
Although a detailed succession plan is crucial for future organizational success, it's an often overlooked strategy. When changes occur at the executive level, many businesses may find themselves unprepared as to effectively identify and implement new leadership.
The good news? Developing leadership alongside your well-rounded succession plan can a straightforward process that aligns your current internal development strategies with your future business goals. Use the following tips and tricks to better understand the details successful leadership talent development and creating a best-in-class succession plan for your organization:
1. Start Considering Leadership Development Now
It may seem like a task that can continue to be put off, but the development of leadership talent for an effective succession plan should be a year-round endeavour. Not only does this get current leadership thinking about the goals of the business, but it keeps future leaders motivated to engage fully with their colleagues and tasks.
2. Start Working with High-Potential Employees
Leadership development is an ongoing process. Focus on working with employees who demonstrate the leadership qualities that align with your organization's culture and goals.
The SHRM's Developing Leadership Talent is a comprehensive guide highlighting the importance of leadership development and succession planning. In this guide, one key takeaway is that any professional experience can encourage leadership development when "greater levels of assessment, challenge, and support" are added. Begin by discussing your organizational needs with coaching professionals who can help you identify the best practices to level-up your internal leadership development.
3. Keep All Leaders Involved
A critical part of leadership development and succession planning is the involvement and commitment of current leaders to keeping the succession plan moving forward. Robert Half shares that making "the vision known" can be done with ease by keeping the succession plan accessible for current executive-level leaders, board members, and your human resources department.
4. Develop Leaders With Constructive Feedback and Ongoing Training
Training leaders doesn't need to be a fully strategized process. Many current employees can benefit from short one-on-one coaching and mentoring sessions paired with constructive feedback on completed tasks.
Regular mentoring can help keep future leaders aligned with company goals while ensuring that current leaders can monitor the performance and expertise of their colleagues and employees.
When the succession plan of your organization is a constant work in progress, current leadership can explore initiatives that keep their current employees engaged while also creating a better future for the business as a whole.
For leaders interested in investing in the future of their organization, developing leadership talent for successful succession planning is a must. Identifying how your current leadership team operates at both the individual and group level is key to understanding the ideal characteristics of a leader in your business.
At EI Advantage, we want to help you develop leaders that will help you create or improve your succession plan for times of organizational change. For more information on our best-in-class executive and team coaching services, get in touch today on Facebook, LinkedIn, or Twitter.