Blog
IT Leaders: Champion Technological Transformation with Emotional Intelligence
May 06, 2019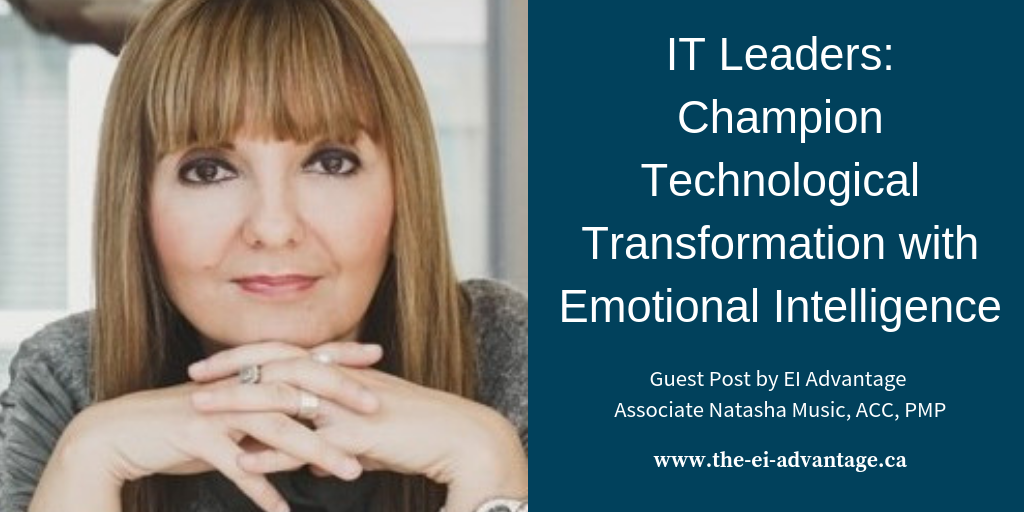 Natasha Music, ACC, PMP is a compassionate leader and certified executive coach with over 20 years of IT leadership experience in both public and private sector organizations. She is an EI ADVANTAGE Associate, and practices coaching from her base in Victoria, BC.
"Thrive on Change: Outside – In" – these words represent the key philosophy of the DXC Technology, the organization that I work for. Change is the only constant and to succeed in the digital era, organizations will need to leverage IT infrastructure, information, and talent that are outside of their organizations. There are no physical barriers or borders any more. Digitalization is blurring the lines between organizations, industries and countries.
The IT world and the world that we live in is rapidly changing; it will continue changing at a global level. We are experiencing the "Fourth Industrial Revolution", the "Big Shift", and the "Digital Age." Transformations are largely driven by technological changes such as internet of things (IoT), big data, analytics, artificial intelligence (AI), machine learning (ML), and many more.
Every previous industrial revolution was a powerful source for significant and often very dramatic social and economic changes, and this will be no different.
According to Klaus Schwab, Founder and Executive Chairman of the World Economic Forum, "the speed of current breakthroughs has no historical precedent. When compared with previous industrial revolutions, the Fourth is evolving at an exponential rather than a linear pace. Moreover, it is disrupting almost every industry in every country. And the breadth and depth of these changes herald the transformation of entire systems of production, management, and governance."
If it was challenging to adapt to the first three revolutions, what can we expect from the fourth industrial revolution that has a more extensive and far greater reach? Velocity of disruption caused by technological changes is significant and will have a substantial effect on IT Leadership.
IT leaders will be responsible for leading and championing these technological transformations.
What kind of leaders can drive this kind of transformation? What is required of them to lead themselves and others successfully?
In addition to being technologically savvy and possessing higher cognitive skills, IT leaders will need to hone their EI competencies to not only drive change and technological transformations, but to thrive in ever-changing environments.
My recommendations as based on my coaching practice in the IT world are as follows:
Be visionary and innovative in order to relentlessly and continuously evolve. This requires strategic and innovative thinking.

Masterfully navigate and lead organizational changes by including your employees. This requires you to draw on your optimism and empathy to develop stronger local and global interpersonal relationships that allow you to communicate more clearly, collaborate with intent, and navigate change more smoothly.

Be flexible to change and adopt new strategies where necessary. This requires that you are able handle uncertainty and be open to new ideas, to manage your stress and to create an environment in which your employees thrive.

Nurture a growth mind-set and adopt life-long learning practices to stay current. This will enhance your resilience and stamina to support never-ending, non-linear change, particularly in times of stress.

Develop and apply critical thinking through greater self-awareness, and self-management. This will lead to stronger problem-solving skills and independence to ensure your leadership remains strong.
I firmly believe that nothing changes until we do. Therefore, we will all need to work on strengthening our inner capability to efficiently deal with these imminent changes from the outside-in. If we do not, we may be left behind. Potential changes are both exciting and daunting. Our inner state will decide how they will manifest for each one of us.
If you're interested in developing your emotional intelligence, contact us to register for an assessment and 1:1 debrief with a certified executive coach. Contact us today or reach out on Facebook, LinkedIn, or Twitter.

References:
The secret to digital transformation? Start by looking in the mirror by Carl Kinson is DXC Technology's chief architect and a technology thought leader.
The Fourth Industrial Revolution: what it means, how to respond by Klaus Schwab Founder and Executive Chairman of the World Economic Forum
4 key leadership skills to drive your leadership transformation – Shelley Osborne is Head of L&D at Udemy.