Blog
How Emotional Intelligence Benefits Your Recruiting Practice
October 10, 2018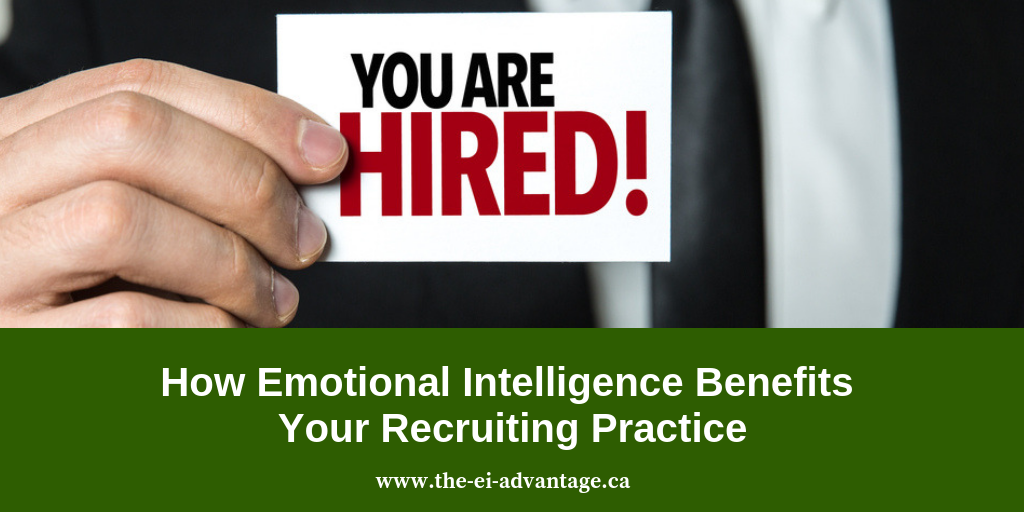 Many of us are familiar with the concept of Emotional Intelligence (EI) and how it can be used in a variety of leadership and team management settings. However, the concept of hiring for "soft skills" such as emotional awareness, open-mindedness, and adaptability to change is one that is still emerging in fields such as recruiting.
This is something we hear a lot during our workshops and certification sessions: that when it comes to recruiting, it can be easy to only focus on a candidate's hard skills, not their soft skills, and this disconnect can often cause problems with onboarding and integrating new hires into an organization.
How to Use Emotional Intelligence to Improve Recruiting
Of course, the criteria needed to ace an interview and land a job come down to much more than an individual's IQ or the qualifications listed on their resume. In addition to personal and professional experience, any recruiter worth their salt also knows to look for identifiers like personality type and behavioral traits that can determine whether or not a candidate is a suitable addition to a workplace team.
During the interview a number of things are taking place: we assess the candidate's mannerisms and body language; how they phrase their answers and when they do (or don't) get defensive; we listen to their tone of voice, the language they use to describe themselves and others; and a variety of other components that go into deciding whether or not a candidate is a great match for the role they're hoping to occupy.
What many recruiters don't realize is that all of these components make up an individual's emotional intelligence!
What's critical here is that recruiters use their understanding of emotional intelligence (EI) to increase the quality of their hires; whether that's looking for a new consultant, or sourcing the next CEO, having a well-developed understanding of EI, and how to assess it in others is essential for making well-informed and successful hiring decisions.
Focus on the Job Description
While it's easy to see how assessing EI in an interview plays a role in selecting the strongest candidate, the best way to hire for Emotional Intelligence is to start with the job posting.
When discussing the requirements needed to properly fill a vacancy, start by asking about the kind of qualities needed for someone to perfectly fit that role, and incorporate those elements into your job posting.
Instead of crafting a job description that focuses only on the specific qualifications and responsibilities required to fill the role, begin by including specific keywords that speak to the qualities you're looking for. Some examples include:
Ability to influence key stakeholders
Strong communication skills
Ability and willingness to negotiate
Comfortable problem-solving
Works as a team player
Is self-motivated
Not only does listing these keywords help the right candidate find you, but it also conveys volumes about the company's culture, and the kind of individuals who work there.
For example, some individuals thrive in more competitive companies, while others are successful in organizations that have a strong social and value-based focus. Being specific in your job posting will enable you to hire for EI qualities from the start, ensuring a smoother recruitment and onboarding process for everyone.
Trust (and Train) Your Instinct
At the interview stage it's likely that you'll be able to assess how emotionally intelligent someone is based on a combination of their body language and how well they articulate their thoughts. However, it's still important to trust your gut when making a final decision, and we don't recommend hiring a candidate who "looks and sounds" great, but ultimately leaves you with doubts.
One way to strengthen the hiring process is to invest in emotional intelligence certification and training. Building your own skill set will not only enhance your own abilities as a recruiter, but you'll also have an easier time identifying and assessing your candidates.
For more information and tips on how to recruit for strengths and emotional intelligence, subscribe to our newsletter or contact us today.