Blog
Ethics and Values: Walking the Talk
January 05, 2020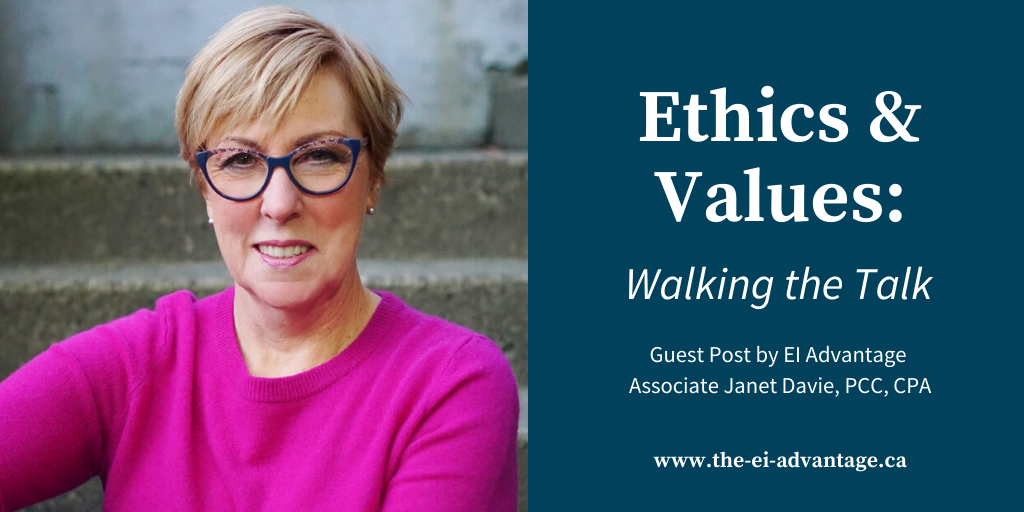 We've all had that feeling in the pit of our stomach at sometime in our life, where we find ourselves at a crossroads. It can be personal or professional. Our values and ethics are being tested.
Looking back as we close out this decade, I reflect on the earlier years in my accounting career, which were filled with challenges. My professional ethics and personal values were being challenged time and again. Living with the philosophy to "never give up," and "do the right thing," was no longer working. It was obvious that I was worn out and needed help to sort out my future.
I worked with an amazing, thoughtful, professional, and deeply caring executive coach who listened to my stories. She guided me with her questions to go deep and to visit places that I had not dared to dream about. I worked hard; believe me – some of our sessions were exhausting! And then something changed – I was beginning to see a different, scary, yet exciting way forward.
There are no words that can express the gratitude that I have for my coach. My courage came back in a big way, which led me to change professions to work in a career that fits me like a glove. Becoming an accredited certified executive coach has been the most rewarding decision of my career. It is where I have found ethical alignment once again and has given me the ability to live each day demonstrating my core values.

So, how can you find the ethical alignment you desire?
Become involved with your professional association.
In both of my professional careers, the Chartered Professional Accountants (CPA) and the International Coach Federation (ICF) have well documented codes of ethics that are intended to provide the guidelines, accountability, and enforceable standards of conduct for all professionals under their umbrellas. These ethics and guidelines dictate expectations that on the surface can seem strict, yet in practice provide comfort in knowing the expected boundaries. The ICF code of ethics specifically provides the structure for open and honest coaching conversations with my clients. Seek out your professional association.
Understand that we do not always see things the same way.
Using ethics as a guide supports individuals to make the "right choice," although it is possible for two people struggling with the same ethical dilemma to arrive at very different conclusions. Behaving in accordance with ethical principles requires individuals to have strong moral values. In fact, an article from the Management Study Guide states that being fair, honest, and ethical is a basic human need. When entering a client arrangement share your professional code of ethics. It is an open and transparent approach to creating a relationship built on clarity of expectations and trust.
Acknowledge your values and be authentic.
Values are non-negotiable. My values include living authentically, demonstrating integrity in all my interactions, and encouraging others to find their best way to a rewarding future. When asked about my coaching style I say it is very rewarding when we get down to basics. I help leaders get out of the muck and develop a workable, simple, go-forward plan of action.
While my client's "plan of action" might be unique to each person, at the core it is about moving forward with an ethical foundation where their values and authentic leadership can shine.
As I move into the next decade, I am grateful for my journey and the ethical foundation that allows me to help my clients reach their full potential and create sustainable, long lasting change for themselves. Let's enter 2020 with excitement – the best is yet to come!
Janet Davie, PCC, CPA is a Certified Management Accountant with more than 20+ years in leadership positions.  Now, as an accredited executive coach she works with senior business leaders and CEO's from a variety of industries helping them realize their vision through strategic thinking and engaging leadership. She is an EI ADVANTAGE Associate, and practices coaching based in Vancouver, BC. http://www.jldmanagement.com/