Products
Emotional Intelligence
 – Your Foundation For Success Book
Emotional intelligence (EI) has been identified as a better predictor of success than IQ, all things considered.
And, while IQ peaks in the mid 20s and remains relatively constant throughout life, EI can be enhanced through training and coaching, study and practice.
---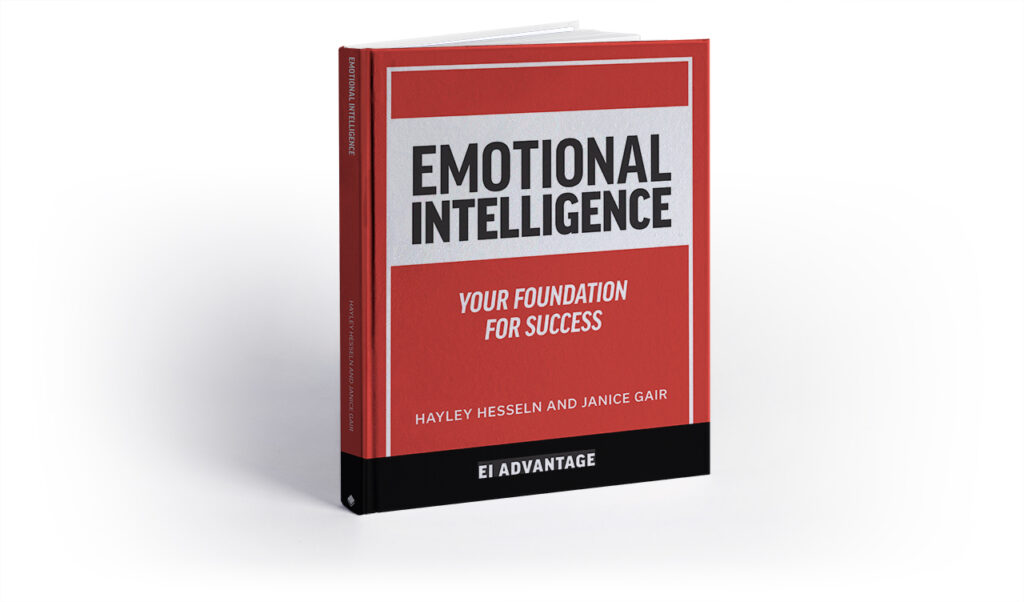 ---
Emotional intelligence has also been related to the 10 essential skills for success by the Government of Canada and is now being used as criteria in many hiring processes.
Packed with research-based insights and exercises, Emotional Intelligence: Your Foundation for Success takes readers through a wide range of activities pertaining to five realms of emotional intelligence: self-perception, self-expression, interpersonal, decision making, and stress management. For each realm, readers are encouraged to evaluate their strengths and areas needing improvement while setting realistic goals.
---
---
Ideal for professional development, regardless of whether you are a seasoned leader or a young person entering the job market, Emotional Intelligence: Your Foundation for Success is a user-friendly, accessible resource that helps readers identify the most important contributors and detractors related to their emotional health and overall effectiveness.
---
---
EI Advantage was founded by Janice Gair and Hayley Hesseln, PhD in 2015. They work with individuals and companies in the public and private sectors to help people be their best. Their combined experience in business, research, teaching, and higher education has given them insight into the need for advanced training and executive coaching around essential emotional skills required for the Fourth Industrial Revolution as recognized by the World Economic Forum. They have published articles in the fields of business, coaching, training, and teaching, and Hesseln was honoured to receive the Master Teacher Award at the University of Saskatchewan in 2017 and the Medal of Bravery from the Governor General of Canada. Gair lives in Winnipeg, MB with her husband, two children and dog, while Hesseln lives in Saskatoon, SK with her three dogs.
---
Buy now:
Available by eBook, Paperback, Hardcover.
---
Reviews:
If you lead a team, work as part of a group, or are looking to have a better understanding of how you interact with others, you will find this book a helpful addition to your interpersonal tool kit.

Emotional Intelligence is a practical workbook that reads like a conversation with a trusted mentor. The book's subtitle, A Foundation for Success, describes the application of emotional intelligence as a tool for building better workplace relationships through self-awareness and self-management. The book guides the reader through explanations of the impact of getting to know oneself better so that we can better engage with others.

This book is full of easy-to-follow exercises that encourage deep exploration and thought, without feeling heavy or cumbersome. It includes creative activities that help manage stress and encourage optimism. The activities in this book will help the reader to assess, analyze and ultimately change their behaviours so that they can rewrite their future story. Gair and Hesseln provide the foundational phrases for relationship building that leaders can use right now, and guidance on how to create your own powerful communications going forward.

While other sources of information on emotional intelligence focus on self-perception, self-expression, and interpersonal skills, Gair and Hesseln have added decision making and stress management to their workbook. These additions provide practical applications of emotional intelligence practices to every day, work life situations. If you lead a team, work as part of a group, or are looking to have a better understanding of how you interact with others, you will find this book a helpful addition to your interpersonal tool kit.


Sandra Woloschuk, MA, CPHR, SHRM-SPC, PCC, CEC
Sandra is currently employed as Associate Director, Learning & Organizational Development, at the University of Manitoba
A clear, concise, and practical book that demystifies what Emotional Intelligence is about and helps you understand why it is such a critical component of effective leadership.

I loved the simplicity of the content and the richness of the exercises and practical guides provided to help enhance and develop EI for leaders. As an executive coach I already know this will become a reference for me when it comes to ways I can help my clients thrive and be the best they can be. It will become part of my foundation for success.

Anne-Marie Renaud, CEC, ACC
Executive Coach
Leadership is a state of being, it is a call to fill a vacuum that exists everywhere, and at all levels of life and organizations. This book "gets that" and translates the theory of EI into understandable and applicable concepts for people at all levels.

It starts with exploring and articulating the foundation of who we are individually, clarifying who we are in a comfortable and logical succession. From the basis of who we are, it takes us on journey that includes how we express ourselves, how we interact with others, and how to navigate the uncertainty and pressure of decisions, before it returns to the basics of our own fulfillment.

Written with and easy-to-read style and packed with nuggets of wisdom, this is a must read for anyone that has used the words "Emotional Intelligence" in a sentence.

Scott Wright, CEC
Scott Wright Leadership Services