Blog
4 Real-Life Examples of Successful Change Management in Business
May 14, 2020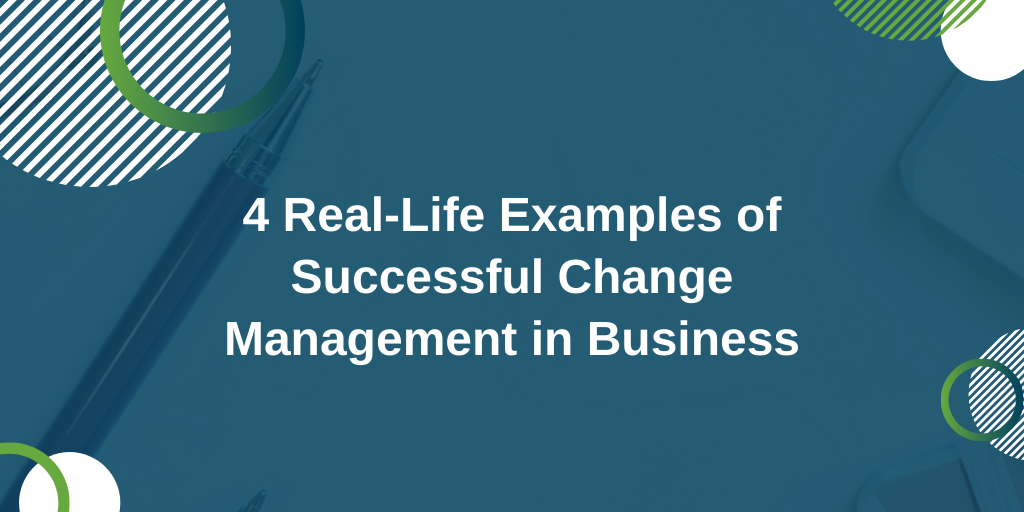 There's no denying that we're living in times of unprecedented change. As we discussed in a recent post, companies need to be using the latest change management techniques to build resiliency within their organizations and to keep team members on the same page.
We've talked about how to implement these steps, but how can you ensure that the change management techniques are successful?
Below are four real-world examples of change management in business that should shed some light on how resilient companies pivot successfully.
1. Netflix
Netflix has been around since 1997 and originally offered customers a monthly subscription service to have movies delivered.
Netflix proved to be a disruptive technology from the beginning, allowing customers to enjoy movies at their leisure and to avoid late fees being charged by movie rental companies like Blockbuster.
However, when streaming launched in 2007 it meant that subscribers didn't need to wait for DVDs to come through the mail. Netflix, unlike Blockbuster, recognized that in order to keep meeting the needs of its customers they had to start offering content online.
Adapting to and embracing change, Netflix was able to survive a dip in subscriptions and stock, and currently boasts 167 million subscribers at the time of this writing.
2. General Electric
When Jack Welch became the CEO of General Electric in 1981 he inherited a company with a market value of $12 billion, and by the time he left in 1998 the company was worth $280 billion.
He accomplished this by completely overhauling the company. His gut told him the company, which had been in business for generations, needed a complete change.
The technique used is called Six Sigma, a methodology aimed at reducing defects in products and processes. By continually testing and retesting processes using this technique, GE saved a jaw-dropping $10 billion.
The other half of the change, according to Welch, came from working on "people issues." By assembling a team that was aligned in values, vision, and beliefs, Welch oversaw the transformation of a successful company to an international powerhouse in business.
Become a more adaptable leader by investing in the change management skills needed to help your workplace team navigate times of change at work.

3. Lego
Lego's story may be one of the greatest turnarounds in corporate history.
The company did fabulously for decades, never posting a loss from 1932 until 1998. But by 2003 sales were down 30% year-over-year and the company was $800 million in debt, and the company hadn't produced anything new for its portfolio in over a decade.
In 2004 the company realized that it needed to completely overhaul its strategy and rethink the business from the ground-up.
Lego went "back to the brick" and focused on its core products. The result was to reduce the number of different pieces that Lego manufactured from 12,900 to 7,000. Lego also started expanding into other marketplaces, breaking into video games, physical action figures, movies, and more.
Being resilient and embracing change, Lego was able to roar back from bankruptcy and earn its place as one of the most powerful brands in the world.
4. Domino's Pizza
Back in 2008, Domino's was struggling to manage its brand reputation and stay relevant, but through successful change management implementation, the company started to turn around.

Realizing that more orders were being completed online, several key players convinced top management to focus on the online-ordering experience. This move differentiated them from other pizza delivery companies at the time.
The enthusiasm for going digital trickled down from the top through the entire business, and the company implemented new technology to support the changes. Text messages, Alexa, Google Home, Twitter, Facebook, and Smart TVs can now all be used to order a Domino's pizza.
Next, the company leveraged the wealth of customer data gleaned through their ordering system, which helped them develop customer loyalty programs that continued to drive up sales.
In fact, Domino's is still embracing change to this day; it has recently tested drone and robot delivery and is partnering with Ford on self-driving delivery options.
Implement successful change management at work
Businesses can weather the recession by embracing change and using change management techniques to create resilient processes and systems. If you're ready to start developing the skills you need to lead these changes, sign up for our on-demand Change Style Navigator certification or Resilience Assessment Certifications and learn at your own pace!
You can also join our next Emotional Intelligence Online Certification coming up at the end of the month! Join us from anywhere on May 26 – 29 and save on the cost of your certification!